The new term of baby and toddler classes in Macclesfield, Alderley Edge, Prestbury, Knutsford, Wilmslow, Poynton, Congleton, Sandbach and surrounding areas is almost upon us!  Baby classes are a fantastic way to help your child's development and to meet other local mums but theres so much on offer the choice can be overwhelming.  I remember as a first time mum being faced with concepts such as 'baby sensory' and 'baby massage' and not having a clue what any of it was about!  So, to help you choose the right class for you and your child, we've put together a quick guide to some of the different types of baby and toddler class available in Macclesfield and the surrounding areas, as well as a bit of inside info on each so you know what to expect. Enjoy!
Baby and Toddler Sensory Classes 
Sensory classes stimulate your baby's senses through movement, music, sounds, light, textures and colours.  They follow the same structure each week – often a welcome song, some group activities (parachute, bubbles, instruments etc), free play and a goodbye song – but the actual content is usually extremely varied incorporating anything from messy play to basic baby signing to baby massage.  The classes tend to be really popular, with mums signing up for term after term so it's a fab way to meet other mums and their children.  As well as being great fun there's scientific evidence that baby sensory classes help to develop your child's brain structure.  Brilliant!
If you're sold on sensory, Bloom Classes are local baby sensory classes which have recently come to East Cheshire having been really successful in other parts of the North West.  The classes are fabulous – bright and colourful with lovely songs and activities which encourage your child's brain growth and stimulate their little senses.  The content of each class is thoroughly researched to ensure the activities are not only engaging to the babies (and mums!) but also provide optimum development and, throughout the class, lovely class leader Charlotte explains the specific benefits of each section.  Apart from all the social and developmental benefits, Bloom classes are just a really lovely way to bond with your baby.
To find out a bit more about what awaits you and the little one in a Bloom baby sensory class check out our full review here.
Bloom runs baby sensory classes locally in Macclesfield, Knutsford and Congleton.  For more information and contact details click here.
Bloom sensory classes are suitable for babies up to around 15 months but don't despair! Once your child get a bit older they can hit the fantastic Toddler Sense!  Each class starts with 30 minutes free play on the equipment class leader Rachel painstakingly lays out at the start of every class and which is bounced on, jumped in, thrown around and generally mauled within minutes of arrival – bouncy castles, ball pools, inflatables, soft play bits and loads more.  The class then moves onto group activities based on whatever the theme of the week is – one of our favourites was Halloween which involved apple bobbing, a spooky disco and pumpkin parade.  The class ends with the Goodbye song.  Toddler Sense classes are a riot and both Mini Mumblers love them – they're also particularly good if, like me, you have 2 children a few months apart since the classes really do cater for toddlers and preschoolers at any stage.
Toddler Sense runs Toddler Sensory classes locally in Macclesfield, Wilmslow, Poynton and Disley.  For more information and contact details click here.
If you'd like more details of all local baby sensory classes see here.
Postnatal Exercise Classes 
We're asked time and time again whether there's anywhere mums can go to exercise with their babies/toddlers.  We're pleased to say the answer is yes!  Not only are there are a few local gyms with creches in and around Macclesfield, Knutsford etc (see the relevant website section here) there are a number of postnatal exercise classes at which the attendance of babies and children isn't only welcome but is actively encouraged!!  These classes allow mums to engage in postnatal exercise safely with someone experienced in postnatal training and are a fantastic way to meet like-minded local mums.
If you're in the market for a bit of postnatal exercise, or even just some social interaction with other mums, check out Sweaty Mama. Sweaty Mama says it is a'unique and effective way to exercise with your child. No need to organise childcare, Sweaty Mama allows you to bond with your child whilst you undertake the workout, utilising their weight to intensify the exercise.' Georgina, who runs the local Sweaty Mama classes, is really lovely and the perfect person to help a new mum wanting to shift a few post baby pounds, or just get out and about and meet other new mums.
Sweaty Mama runs classes locally in various venues.  For more information and contact details click here.
For details of all postnatal exercise classes in Macclesfield, Knutsford, Wilmslow and the rest of East Cheshire, click here.
Active Baby and Toddler Classes
Active classes are great way to get your child running round in a safe, controlled environment.  They tend to be fast paced and energetic with an emphasis on enjoyment and developing basic life skills such as co-ordination, balance and teamwork rather than specific sporting skills.
A lot of active classes, by their very nature, tend to cater for slightly older children who can walk or at least toddle.  Tumbletots classes, however start at 6 months.  Tumbletots is based on the principles of gymnastics, having been founded by a former coach for the British Olympic Gymnastics team.  Tumbletots uses equipment which the kids climb on, through and over and slide down, jump and roll around on.  The classes are really relaxed and the children navigate the obstacle courses at their leisure and in any order they prefer with help from their parents and the many Tumbletots helpers on hand.  Mini Mumbler absolutely loves his Tumbletots classes and has really flourished in confidence and agility since starting.  for a bit more insight into what to expect at a Tumble Tots class check out our recent review here.
The lovely Megan and her team run weekly local Tumbletots baby and toddler gymnastics classes in Wilmslow and Macclesfield as well as one off Sunday classes – keep an eye on the Events Calendar for details of those.
For more information on Megan's classes and for contact info, click here.
There are also Tumbletots baby and toddler gymnastics classes in Congleton – call 07810 513 845 for more details and in Knutsford – call 07812 144 450.
If your child is a little older and you're keen to get them started on a sport, Rugbytots is a brilliant choice for both boys and girls.  Alick, who runs our local classes, has won loads of awards for his coaching and its easy to see why – the classes are high energy, educational and great fun.   To learn a bit more about what's in store for you and the kids at one of Alick's Rugbytots classes, check out our full review here.
Click here for further details on Rugbytots classes in Macclesfield, Congleton, Alderley Edge and Poynton.
For Rugbytots classes in Sandbach call 0345 313 6705.
To see the full range of local Baby and Toddler Sports and Exercise Classes check out the relevant section here.
Outdoor Classes and Playgroups
With a heatwave (allegedly!) on the cards, outdoor classes are a brilliant way of getting out and about and exploring nature with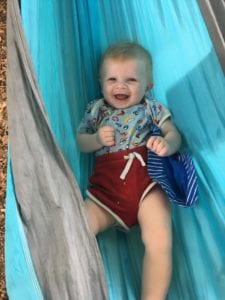 the kids in a safe, supervised way.   We're really lucky in East Cheshire to have loads of fabulous countryside on our doorstep which gives our children the chance to really explore and interact with nature.
Lots of outdoor kids classes and playgroups take place in Macclesfield Forest including Nature Tots and Wild Families.  Wild Families is free and we had a brilliant time when we went last summer – the kids went bug hunting, swung in hammocks, built clay faces and loads more.  There are loads other types of outdoor class though including kids gardening classes and farm sessions.
For full listings of outdoor classes and playgroups in Macclesfield and throughout East Cheshire check out the website.  Make sure you also keep an eye on the Events Calendar for one offs like Wild Families.
Baby Massage and Baby Yoga classes 
Both baby massage and baby yoga classes are a really lovely way to bond with your new baby.  Amidst the mayhem of life with a newborn and the other all singing, all dancing baby classes and groups, yoga and massage offer both baby and parent a chance to just switch off, relax and get to know each other through gentle movement and touch.  Massage and yoga have proven benefits for your baby including better sleep, improved digestion and circulation and even relief from the pain of teething.
If you're looking for a baby yoga class in and around Macclesfield, Saffron is a hugely experienced yoga teacher who offers baby yoga courses at both Macclesfield Library and the lovely Mother Nature Sanctuary in Bollington.  To find out what to expect in one of Saffron's baby yoga classes in Macclesfield, check out our review here.
For more information on Saffron's baby yoga classes click here.  Saffron also runs 'Wrigglers to Walkers' yoga classes for older babies and toddlers.  For more information on those classes, click here.
Mother Nature Sanctuary is a really lovely 'mind, body and health' centre in Bollington.  It hosts regular events for baby and carers including well baby clinics where health visitors will weigh your baby and answer any questions.  The lovely Siobhan, who runs the centre, specialises in a whole range of holistic treatments including baby massage and offers regular baby massage courses in the lovely calm atmosphere of the centre.  For the full schedule of classes, groups and events at Mother Nature Sanctuary see their timetable here.
For more information on the baby massage and baby yoga classes available in Macclesfield, Knutsford, Congleton and the rest of East Cheshire, see the full listings.
Swimming Lessons for Babies and Toddlers 
Swimming lessons are a great thing to do with your baby and toddler.  In fact I remember it being one of the things I was most excited about trying when Mini Mumbler was born.  We took her from around 6 weeks old and the confidence she has in the water as a result is amazing (if not at times terrifying…!)
Swimming lessons have loads of proven benefits for babies and toddlers, one of the obvious being water safety – most baby swimming lessons will teach your children vital water safety techniques as well as increasing their general awareness of being in and around water.  Swimming is a valuable life skill so the earlier your little one starts learning, the quicker they'll develop skills they'll use for the rest of their lives. Other proven benefits include promoting bonding, building confidence and strengthening baby's muscles.
If you're keen on dipping your little ones toes in the water (!!), Waterbabies classes come highly recommended (we did them with the Mini Mumblers and they loved it) and they run a comprehensive programme of baby and child swimming lessons suitable from birth throughout East Cheshire including in Macclesfield, Wilmslow and Sandbach.  Plus, for any mumblers that book onto a course, just quote East Cheshire mumbler to receive a free Splashabout Happy Nappy (required for the lessons) with your welcome pack worth £10.99!
For more information on Waterbabies and their contact information, click here.
For details of all local baby and toddler swimming lessons in East Cheshire check out the listings here.
Something a Bit Different
If you're still undecided, there are loads of other classes and groups to try.  Splat Messy Play, for example, runs messy play classes throughout South Manchester and Cheshire including in Macclesfield on Tuesdays.  We went along to a class a few weeks ago and all three of the Mini Mumblers we took with us, ranging from 6 months to 2 and a half, absolutely loved it.  To see what it's all about read our full review here.
For full listings local messy play baby and toddler classes in Macclesfield, Wilmslow, Congleton and throughout East Cheshire, click here.
Free (or under £2) Classes and Playgroups
As great as they are, all these baby and toddler classes can get expensive.  The good news is that there are a load of free (or at least cheap) local classes and playgroups which you can go along to.  Local Children's Centres run a programme of events which includes weekly Stay and Plays and which are free – we've gathered up the timetables from all the local Children's Centres over on the website so you don't need to trawl the website for each one – check out the link here.  The Children's Centre groups are also listed in the classes and groups section.
We hope that helps you decide which baby or toddler class or group to try!  For full class listing broken down by day, type and area check out the Classes and Groups Section.  If you decide to give any of the classes or groups a go we'd love to hear from you with how you got on.