When the sun comes out nothing beats a trip to the seaside for some old fashioned seaside fun – sandcastles, rock pooling and paddling, what could be more fun?!  We might not have the sea on our doorstep but there are a lot of lovely beaches easily accessible for a day trip – check out Guest Blogger Sophie's Family Guide to Beaches Near Cheshire!
We've got a whole section dedicated to Summer Holidays in Cheshire – click here. 
For Full Days Out listings in and around East Cheshire click here.
As with everything at the moment, the situation with covid 19 changes things daily so please do check that everything is ok at your destination before you travel.
Don't forget to check tide times before you visit –  we have walked a long time to reach the sea before now and conversely you don't want to get to the beach to find the tide is in and there's no sand!
As always, we'd LOVE to hear from you with your experiences of any of the beaches listed here, or any others you think should be included.  You can post in the East Cheshire Mumbler Chat Group, or email us at eastcheshire@mumbler.co.uk.
---
☀️ St. Anne's Beach – Lytham
This beach is our most recent discovery as a family.
It's on the Fylde coast of Lancashire on the estuary (River Ribble).  It's  the kind of place our Grandparents would have visited for honest old fashioned family fun. There's an old Victorian pier, Donkey rides, Fish and Chips and soft sand for miles. St Annes town centre is a short walk from the pier, and has lots of cafe and restaurant options. The sea was out both times on our recent visits and there was tons of room for ball games and kite flying without getting in anyone's way. You can also hire a beach hut (pre-booking only) – they look fantastic. They are located on the prom overlooking the beach, and are well equipped with mains electricity, a kitchen, fresh water and table & chairs. They have toilet facilities near the Island Cinema – perfect for a full day of beach fun (stannesbeachhuts.co.uk).  You can stay until midnight too so can enjoy the sun set whilst eating your fish and chips. Our little boy found plenty of little rocks and shells to bring home as well as having a walk to the sea itself but was quite happy splashing in the big puddles left by the tide. There is also a 'splash park zone' close to the beach huts, for the little ones to play in (age 3-12).
If you're visiting with a child in a pushchair, the easiest places to get onto the beach are by the pier or next to the Beach Cafe. This is also the best place to locate yourself to access refreshments, toilets and the family attractions such as the splash park, mini links golf, crazy golf, and a small selection of kid friendly fairground rides. Needless to say, this is also the area that gets the busiest. If you're happy to take a picnic and prefer a quieter area, your best bet is to head north along North Promenade to where the road becomes more residential (and street parking is free of charge!). It does mean accessing the beach over the sand dunes, but depending on the age of your kids, it's all part of the fun! There is also a partially boarded wooden path near to where North Promenade ends.
When planning your visit, its definitely worth checking the tide times, especially if having a paddle is high on the priority list! The beach is very flat and at low tide it would be a very long walk to get to the sea. Regardless of the tide times though, it's best to aim for an early start as it does get very busy.
What you need to know – 
Distance from Macclesfield – 70 miles / 1hr 24mins
Distance from Chester – 76.4 miles / 1hr 20mins
Parking – There are three pay and display car parks dotted along North Promenade (the road that runs alongside the prom, and the sand dunes), as well as p&d street parking along the same road. You can also find free parking on side streets and at the Northern end of North Promenade. But beware, it can get very busy on sunny days!
Toilets (remember some 20ps!)
Shops, cafes and kiosks for sandwiches, drinks, ice cream and fish and chips.
Entertainment includes an arcade, donkey rides, pier, shops and splash park (please check up to date situation with these attractions as it is changing regularly)
---
☀️ Prestatyn – North Wales
Prestatyn has three beaches which join together to give a five mile stretch of sand linked by a promenade.  We've concentrated on Central Beach but the other 2 – Ffrith Beach and Barkby Beach also come highly recommended.
Central Beach has a wide promenade – good for cycling or walking with the kids and taking in the stunning coastline. There is so much room for building sandcastles, family games of football or cricket and rock pools for finding sea creatures. It's a lovely clean, award-winning beach, perfect for picnics. Alternatively there are a couple of cafes to choose from selling drinks, snacks and ice creams as well as fast food and coffee – one of them is next to the children's play park which means you can sip your coffee while the kids play. 
What you need to know – 
Distance from Macclesfield – 63.1miles, 1h 28mins
Distance from Chester – 30miles, 43 mins
Parking – Nova West park
Toilets – Nova Centre (to the right of the car park)
Cafes/shops – A couple to choose from for reasonable kid friendly food and the all important coffee for us.
Entertainment – Arcades, crazy golf and kids playground
---
☀️ Wallasey/New Brighton
New Brighton is located in the North East corner of the Wirral. There is a ton of stuff to keep the family busy so it's a good option for those who perhaps get bored being on the beach all day – definitely an all day-er! There's almost a mile of golden sand to enjoy and it's a great place for any little ship enthusiasts to watch them exit the River Mersey into the Irish Sea. There's also the much loved "black pearl" – made entirely from driftwood, the kids will love playing pirates while you sip your coffee and admire the Liverpool skyline behind it. There are plenty of food outlets to choose from as well as crazy golf and an open air fun fair to top it all off. Good old sea side fun. You could also take a stroll to the New Brighton Lighthouse which has stood guiding ships since 1827. The kids will be worn out.
What you need to know – 
Distance from Macclesfield – 59 miles, 1hr 12 mins.
Distance from Chester – 24.7 miles, 32 mins.
Parking – A few different choices for parking depending where you want to station yourself. "Perch rock" car park is a good place to consider and is walkable to most attractions. 
Toilets – Close to the above car park are the 'floral pavilion theatre' toilets. 
Cafes/shops – Lots to choose from!
Entertainment – So much to choose from – Arcades, fun fair, pirate ship, light house, shops, splash park
---
☀️ Morecambe
Morecambe is home to a stunning five mile, award winning, sandy coastline. There are a few places to station yourselves depending on how quiet you'd like your visit to be. North Beach has arcades and shops, cafes, fish and chips and ice cream. It's a seaside town that was once lively but has settled into a quieter lifestyle. A lovely place to take a picnic and settle for a day of building sandcastles and beach exploring. We felt it had the perfect mix of things to do without being overwhelming. 
What you need to know – 
Distance from Macclesfield – 80.5 miles, 1hr 31mins
Distance from Chester – 83.9 miles, 1hr 23mins
Parking – Bay Arena
Toilets – At the Clock tower – 20ps needed!
Cafes/shops – Cafes, chip shops, ice cream.
Entertainment – The clocktower playground, Happy Mount Splash Park and playground, crazy golf, arcades and shops
There are some reports of quicksand and fast changing tides so always stay aware of your surroundings and don't stray too far from the bay area. 
---
Sponsored Link
Award Winning local law Firm McAlister Family Law offer expert advice on all aspects of family law.  Click here for more information.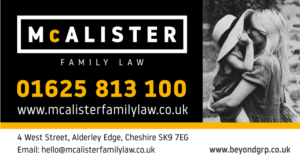 ---
☀️ Formby
Formby is a beautiful, sandy, National Trust beach with lots to see and do. The bases of sand dunes offer the perfect spot to settle with your picnic bags and blankets for a day of paddling. The woodland next to the beach is home to the native, rare, red squirrel. The 'red squirrel walk' is  pram friendly and a lovely way to start the day. You can download and print the trail map before you go and spotting the squirrels keeps the kids busy for a little while too. Our little boy loves running up and down the sand dunes the most. They really do offer breath taking views from the top. This beach makes you feel like you're truly back in touch with nature and is the perfect way to escape modern life and all of its noise.
Mumbler Tip – a Mumbler who visited Formby recently said she got there early and left at around midday when it was just starting to get busy.  She said her 2 little ones had a blast! 
What you need to know – 
Distance from Macclesfield – 53.7 miles, 1hr 11mins.
Distance from Chester – 40.5 miles, 53 mins.
Parking – Lifeboat Road or Victoria Road National trust car parks – both car parks get full quickly so our advice is to go early! Once they are full, it's one in, one out!
Toilets – There are toilets, but at the time of writing are only open Thursday – Monday and are a walk from the beach at Victoria Road car park.
Cafes/shops – Picnics all round for Formby!  There is often a coffee truck and ice cream
Entertainment – Beautiful woods, Red Squirrel walk. 
---
☀️ Llandudno
North Shore Beach is Llandudno's main award-winning beach with plenty to see and do. It has an old fashioned Victorian pier, donkey rides and ice creams galore. The beach is made up of rocks and sand, meaning it's great for exploring as well as settling with a blanket and your bucket and spade. There are old style amusements and fish and chip shops. It's an old school day out that'll give you all the family sea side memories you could wish for – so don't forget your camera!
What you need to know – 
Distance from Macclesfield – 84.9 miles, 1hr, 38mins.
Distance from Chester – 46.9 miles, 54 mins.
Parking – Happy Valley car park (not a huge car park)
Toilets – George Street or North Western Garden toilets.
Cafes/shops – plenty to choose from.
Entertainment – Donkey rides, arcades, Professor Codman's Punch and Judy show (that has been running for 150 years!), shops
*With most Eastern facing beaches, there are often issues with fast changing tides – always stay alert and keep to the main beach areas, particularly with small children.
---
*Distances are according to google maps, not in rush hour, and so may vary at busy periods.
---
Other beaches accessible from Cheshire and worthy of a mention –
☀️Talacre – Recent TripAdvisor reviews talk about "great facilities near by", "the beach stretches for miles and miles" and  "the beach is huge and clean"
☀️Southport – Recent TripAdvisor reviews talk of there being no sea (!) – presumably the tide is far out – but lots of sand for the kids to play on, and lots of amenities/food outlets nearby.
☀️Ainsdale – "Go early, leave early" to avoid the crowds is the advice from one Mumbler who said the beach was beginning to get busy as she was leaving mid afternoon.  Recent TripAdvisor reviews mention "Parking on the beach…so no lugging lots of stuff with children in toe", " Snack van and ice cream van on site", "Portaloos available close to the entrance" and "Very spacious beach"
☀️ West Kirby – One Mumbler who recently spent three days in West Kirby Kindly shared the following information –  "Visited the beach early and late on so not sure how busy it gets in the middle of the day but there was plenty of room to play. Walking around the Marine lake is beautiful watching the Windsurfers in action. Lots of places to eat and drink around as well."
A recent TripAdvior review calls it '"beautiful" and another one noted that it was "a lovely stretch of clean sand"
☀️Newport – Recent TripAdvisor reviews say that it has "loos and a cafe", with a "small car park" and call it a "Fabulous beach" and "very child friendly"
---
We always like to give you a true taste of a place before you travel wherever possible, so a HUGE thank you to the lovely Mumblers who so kindly provided these photos of their gorgeous little ones on the beach for us to use in the Blog –
In order, the beaches featured are photos : 1-4 – Ainsdale; Photo 5  and 6 -West Kirby; Phots 7-9 Lytham