If you're anything like me you're probably sick to the back teeth of the word "ZOOM"….but it does have great potential to keep our kids in touch with each other and lets them feel like they aren't losing touch with their friends from school. These really are unprecedented times and the more 'normal' we can make our little ones feel, the better. 
However, our little ones aren't really into long chats over Zoom – they get fed up after about three minutes and start wandering off, playing with their toys, punching each other etc…..so we've been wracking our brains for ideas of how to encourage them to engage a little more with friends and family on screen, since this is the only way we can see them at the moment!
With that in mind, super Guest Blogger and Poynton Mum Sophie has put together some ideas that are great for inspiring conversation and hopefully bringing some fun into the house.
---
3,2,1
This is a super simple game and is really good for younger ones (as young as 2) as well as older ones.  The children take turns to pick something, for example, "something you would wear on holiday", then count down, "3,2,1… go!" and the others race to find something that fits into this description. The first one back wins the round. The game can be simplified by saying something like "something blue" – for the younger ones.
---
Who Am I?
This is another really simple game which is good for encouraging conversation. The children take it in turns to choose an animal and can either do it so the others ask questions about what animal they are like "do you live in Africa?" or "what colour are you?" or they could do it so that the child who is "on" gives three facts about the animal and the other children have to guess first.
---
Show and tell
A cute way to get the little ones chatting is doing an old school 'show and tell' with their favourite toy. Younger ones will probably need some encouraging from parents but it's a lovely way for them to chat and connect and children love shopping off their favourite things!
---
Group crafts
This went down really well in our house. Just get everything 'crafty' out on the table – glue, paper, scissors, glitter, stickers etc. Pop zoom on and see if some natural conversation begins between the kids (it always does!) It keeps them busy for a while at the same time as seeing the pals they would usually be sat at a craft table with. Baking also works really well but needs a littl more preparation.
---
✨Sponsored Link ✨
Lucy Fay is a much loved local family photographer. specialising in producing beautiful image soft your family, newborn shoots, cake smashes and everything else family.  She is offering Mumblers £25 off new bookings (except f0r Mini Shoots).  For more info click here.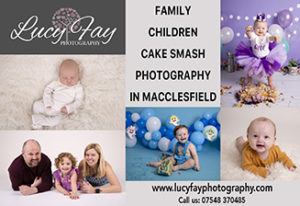 ---
Read a book
It worked really well for us as my little boy got a book for Christmas from my friend who had also got it for her son, so we both had a copy. I think it worked especially well as it was a silly story that they both found funny (I need a new bum! by Dawn McMillan)/ It was a lovely activity to do together.
---
Makeup/face-paint
This one is more for the older ones and will probably involve you as the model! Have them make a makeup or face-paint 'tutorial' for their friends. They could take turns or all do it at the same time and just chat about what they're doing as they go.  My son LOVES doing my makeup so this will no doubt be really popular with both boys and girls! It can become pretty wild so make sure you have makeup remover for afterwards!
---
Group exercise
Whether they (or you) fancy Joe Wicks or Cosmic Yoga just stick it on the telly and set up zoom on whatever device you have and let them go for it. It will hopefully inspire some laughs as well as burning off some of that pent up energy!
---
Online Parties 
These are a great shout to celebrate a lockdown birthday, or just for a treat which your little one can enjoy with their friends.  Mini Mumbler recently had an Elsa Party with her school friends – its costs money but if you spit it between you all it's not too much, and it really lifted her spirits when she was feeling down about not being able to go to school.
---
🌟Sponsored Link 🌟
If you feel like you need some support with Home Schooling, My Own Tutor Cheshire is a highly recommended local online tutor company which  provides tuition from only £5.99 per week with My Own Tutor Cheshire –  Click here for more info!
---
Bingo
An oldie but Goldie! Great for younger ones to practice their numbers and a sure fire way to get the grand parents involved.  You can download and print bingo cards from this website – https://myfreebingocards.com/numbers – there are traditional number cards as well as loads of different themed ones.
---
Pictionary
You can use the whiteboard on Zoom to play – create your own words or use the word generator here randomwordgenerator.com/pictionary.php .  Remember the person screen-sharing is the only one who can draw at a given time.
---
Name that Tune
We love a music recognition game at Mumbler HQ!  Just play the first few bars of a song and let the others see if they can guess what it is!
---
Generation Game
One person holds up lots of different items and the other people have to write down as many as they can remember at the end.  Probably one for older kids or for younger ones to play withheld from  grown ups.
---
A few more suggestions we've gathered from some particularly lovely Mumblers….
"My daughter and her friends just get out heir favourite toys and play together as if they were sat next to each other, chatting away Its lovely!. 
"My little one plays Lego on Zoom with his friends. Sometimes they have Lego competitions.  Keeps them busy for ages!"
"Battleships" "Guess Who" "Articulate" "Facebook Chat has games they can play together"
---