I first wrote this Blog last year when I was searching for outdoor space I could go to with my particularly fair skinned little ones which offered protection from the sun's rays.  It's a list of local outdoor spots which are particularly shaded so you can get out and about in scorching weather (or when its drizzly), and take shelter under the trees' canopy if you need to.
---
This Blog is a Work in Progress and we'll add to it as we visit more places which qualify.  If you've got any recommendations we'd LOVE to hear from you –  you can either post in the Facebook Chat Group or email us at eastcheshire@mumbler.co.uk.
---
If, like mine, your little ones turn bright red through windows at the slightest hint of sun, you'll know that as lovely as they are, sunny days can present a whole world of problems!  I love to get them out enjoying the warm weather but too long in the sun almost certainly equals sunburn for my three.  So, what could be better than an outdoor area with ample shade where you can enjoy some sunny family time whilst not fretting that they're going to wind up looking like lobsters at the end of it?!
Well, thats exactly what we've got for you! We've spent the last few weeks visiting places we've heard mentioned as having ample shaded areas to put the claims to the test and give them the Mumbler Seal of Approval!
---
🌳 Delamere Forest 
The quintessential shaded walk in Cheshire! Delamere Forest dubs itself a 'shady oasis' and having spent a sunny afternoon meandering through it, we have to agree!
The Forest is accessible by its own train station or there's a large car park which currently accepts cards only.  Parking charges when we went (August 2020) were £4 for 3 hours and £6 all day.
There's LOADS to do in the Forest – 3 walking trails, 2 cycling trails, Go Ape, Segway, Nordic Walking and lots more.  There's bike hire and a cafe as well.
We, however, were there for 2 reasons and 2 reasons only – 1 – to assess how shaded it is and 2 – to hunt down a Gruffalo.  (NB – the kids can usually try their hand at 'Gruffalo Orienteering' for £1.50, using a simple map to find 12 Gruffalo markers hidden in the forest.  That's currently closed though due to covid 19).
Shade wise, you're in a forest so its pretty shady!  When you enter there are a couple of big grassy fields where most people seemed to be picnicking (so we followed suit!) and which were home to the ice cream and food vans.  There's no shade to speak of in those fields except for that given by the few trees around the edge so if you go on a scorching day and want to avoid the sun, its best to head into the forest to eat.
We asked the nice lady in the Ice Cream van where we could find the Gruffalo.  She told us that the signs had been taken down due to covid 19 but gave us pretty detailed directions (they're very straightforward, even I could follow them and I get lost trying to get off my drive).  Plus, there are a couple of signs still in tact pointing you in the right direction.
The walk through the forest is really beautiful and you're under the canopy of the trees so largely protected from the sun – there are of course parts which are exposed but there are loads of clearings pretty much completely protected from the rays which you can dive into if you're after further solace.  The Mini Mumblers spent a good half an hour playing in one – jumping on and off tree stumps, collecting sticks, pretending to be wizards etc.  There was a family having their lunch in there – they'd thrown down a blanket and were tucking into their picnic under the branches of the trees.  Lovely!
It took us about an hour to reach the Gruffalo but we did play our way rather than walk our way there and I suspect that's far longer than it would take the average person!  The Gruffalo himself is a tall statue standing in a clearing which delighted the Mini Mumblers when he came into view.  They had a little run around him, posed for a few photos and we went on our way.
I decided to go back the way we'd come rather than follow the trail – the excitement was beginning to get the better of the Mini Mumblers –  I was getting bombarded with 'my legs are sore' 'I'm tiriiiirrreeedddd' and I was wary of getting lost in the forest with 3 grumpy children!
We spent a total of around 3 hours  at Delamere and it was a great, shaded day out.  The addition of the Gruffalo statue makes a walk in the forest that little bit more exciting for the kids and my 3 had a great time.  It's definitely worth considering if you're looking for a shady oasis on a hot day!
NB – we went to Delamere on a Sunday and it was pretty busy which made social distancing on some of the narrower paths tricky- not impossible, bit tricky.
Delamere at a Glance –
🌳 Amenities – Portlaoos in the Car Park
🌳 Food/Drink – Cafe. Ice cream stands and 'Gourmet' Food van selling hot dogs etc.  Lots of room and benches to take a picnic
🌳 Parking – paid car park which takes cards only
🌳 Shade scale – 8/10
Linmere, Delamere, Northwich
Sat Nav Postcode: CW8 2HZ
---
🌳 Lovell Quinta Arboretum and Nature Reserve, Congleton 
This gorgeous arboretum in Swettenham is home to around 2,500 trees and shrubs making it the perfect place to escape the sun's rays.  It's just behind the Swettenham Arms Pub – look to the left as you're facing the pub and you'll see the sign for it.  You can park in the pub car park for free but the Arboretum asks for a £2.50 donation towards the upkeep. There's an honesty box on the way in and it's well worth the money.
We went on a weekday morning and it was exceptionally quiet – we had the place to ourselves for most of the time.  The tree lined avenue as you follow the signs for the Nature Reserve provides pretty much complete shade and the Mini Mumblers had a great time tearing up and down, collecting sticks as they went.  We started off following the signs labelled 'Easy Route' but came to a path which was a little narrow for our ginormous buggy (see pic) – we turned around and went off in search of some woodland to mess around in – and we were spoilt for choice!  We stumbled upon a clearing which, to the Mini Mumblers delight, was home to not one but THREE wig wam dens together with a little camp which someone had made – four logs had been placed on the ground as benches, around a campfire in the middle.  The amount of trees around us meant that we were pretty much completely shaded.  The Mini Mumblers had an absolute blast, going into full on role play mode gathering wood for the fire and going back to their individual houses (because sharing is totally out of the question) to rest and recuperate after all their log-hauling efforts.  They really could play like nobody was watching – because nobody was!! We spent a good half hour honing our Bear Grylls skills before having to make our way back to see Nanny Mumbler who was waiting for us at home.  By that time we'd been in the Arboretum for around 2 hours and hadn't scratched the surface – there's so much more woodland to explore,  a Lake to visit and walks to try.   The Notice Board at the Entrance listed 2 walks – one lasts 45 minute and one an hour and a half.    Something for our next visit!
The Swettenham Arms next door to the Arboretum has a HUGE beer garden, lavender field and croquet lawn.  It would make a lovely day out to spend the morning in the Arboretum, run off some energy and build up an appetite before heading to the pub for lunch.
NB – the beer garden isn't in the shade at all so if you're keen to avoid the sun your best bet would be to take a picnic to eat in the woods, or eat inside the pub.
Lovell Quinta Arboretum at at a Glance –
🌳 Amenities – None but there's a pub next door
🌳 Food/Drink – Take a picnic or head to the pub
🌳 Parking – park in the pub's car park for free
🌳 Shade scale – 9/10
Swettenham, Congleton CW12 2LF
---
🌳 Marbury County Park, Northwich
This gem of a park was mentioned a few times as having bucket loads of shade so, in the line of duty, we duly headed off on a sunny Thursday morning to see for ourselves.
The park has a large Pay and Display car park and we paid £1.50 to stay for three hours.  Places with car parks always get off to a good start with me as my road parking skills are terrible.
On entering the park there's a map showing the area, walks etc.  I couldn't read that to save my life, so we went rogue and headed off to the right, blindly following a lovely horse the Mini Mumblers had spotted going for a walk with its owner.  I asked a couple of Mums we came across what the best way to see the park would be and they advised doing a short loop (which with straight up walking would take around 20 minutes) but darting into any particularly inviting woodland for a bit of a play, having a run around the fields etc. So thats what we did!
There are 2 open fields as you enter the park and veer off to the right – they're not in the shade but are bordered by 2 tree lined avenues which are so dense they provide pretty much complete cover from the sun's rays.  The Mini Mumblers had a great time running up and down collecting leaves and twigs for Daddy (lucky Daddy!) .  Even though you've only just got to the park, you wouldn't go far wrong putting a blanket down and enjoying the cool of the shade under the trees whilst the kids run around – in fact we saw a family doing just that!
As we carried on along the loop, we saw a number of  paths heading off to the right, most of which looked dark and cool, surrounded by trees, bushes, flowers and shrubbery (quite a lot of stinging nettles too so just keep an eye on the kids).  We picked a particularly inviting offshoot to head down and found ourselves heading deeper and deeper into shaded woodland.  It was really lovely – around every corner we found another clearing full of gorgeous willow trees to wander under, tree trunks to sit on and trees to climb.  The Mini Mumblers were delighted to find a network of mud hills to scale and bolt down and loved stumbling upon a family of ducks chilling out in the reservoir (the woodland we were playing in borders the reservoir so keep an eye on the kids – the older 2 were fine but I had to keep a very close eye on Baby Mumbler as he waddled round).  The whole area was completely shaded and we saw a couple of families who had set up camp there to have a picnic – an ideal spot on a scorching day.
In order to get a bit more of a feel for the park and carry on our Mumbler Shade Test we headed out of the woodland back to the path.  We walked through a clearing with a couple of trees perfect for climbing and into a field where a few families were playing and picnicking.  There was little shade but the field was lovely and great for Baby Mumbler to potter around. It was totally flat so the kids could have a good run around and wander quite far away whist still being in sight.  At the edge of the field the grass is cut shorter and there are a few picnic benches, some of which are under cover.  This was the busiest area of the Park and there were quite a few picnics going on and ball games being played – although it's plenty big enough to socially distance.  This is where the toilets are located.
There are signs in the park for a 'Play Area' but theres wasn't one when we visited – we were told there's a new one in the pipeline but this isn't open as yet.
You can walk all the way around the reservoir and even to Anderton Boat Lift – but I'm told that would be a hefty jaunt.
Marbury County Park at a Glance –
🌳 Amenities – Toilets near the grassy area at the far end of the main field
🌳 Food/Drink – Snack van at weekends.  Plenty of room for picnics both in and out of the shade.
🌳 Parking – Large Pay and Display Car Park
🌳 Shade scale – 7/10
Northwich CW9 6AT
---
🌳 Maggoty Wood, Macclesfield 
Ignore the name –  this isn't a maggot infested hovel, it's actually really lovely!  It takes its name from Maggoty Johnson – a Court Jester for the Gawsworth Estate who's buried there.
Now under the ownership of the National Trust, the wood comprises 2.4 acres of predominantly oak and beech trees which tower above the ground providing welcome shelter from the sun's rays on a Summer's day.  Access is from Church Lane at the junction with Maggoty Lane.  From there, you'll enter a small, self contained woodland perfect for little adventurers.   There's a small loop for Mini Ramblers to take on (only about 300 metres) which the Mini Mumblers love using as a race track in their never ending quest to beat each other at everything.  The massive added bonus is the little stream to paddle in and cool off.  Once you've built up an appetite rambling, running and paddling there's a couple of picnic benches to sit at and eat your lunch.
Whilst only small compared to the other places listed, Maggoty Woods is a real hidden gem and perfect when you need to find somewhere for a play in the shade.  Just don't visit on Halloween –  if you run around Maggoty Johnson's grave 13 times then,     he'll appear and perform for you or take you back into it with him, depending on which version of the tale you prefer (I'm going with the performance)!
NB – Maggoty Woods is more of somewhere to play than a walk as its pretty small (but very lovely!). To make more of a day of it you could head over to the lovely Gawsworth Park which has an area for both toddlers and older kids as well as loads of grass for ball games, a loop which the Mini Mumblers love to scoot around, and a small wooded area to play in.  There's also a duck pond near the large St James' Church.  Please note though – these areas are not shaded. 
Maggoty Wood at a Glance –
🌳 Amenities – None
🌳 Food/Drink – Picnic benches
🌳 Parking – Road parking on Church Lane
🌳 Shade scale – 9/10
Macclesfield, SK11 9RD
---
✨Sponsored Link ✨
Lucy Fay is a much loved local family photographer. specialising in producing beautiful image soft your family, newborn shoots, cake smashes and everything else family.  She is offering Mumblers £25 off new bookings (except f0r Mini Shoots).  For more info click here.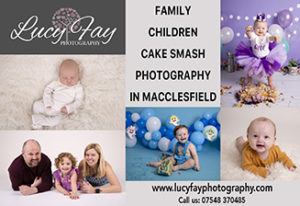 ---
🌳 Brereton Heath, Congleton 
We visited Brereton Heath on one of those days which presents us with 4 seasons in three hours – blazing heat to torrential rain to gale force winds to spring sunshine all before lunch – so it got put to the test for any sort of outing!
There's a large pay and display car park which cost us £2 for 3 hours and there were loads of spaces when we arrived mid morning on a weekday.  The kids immediately picked out the group of ducks and swans congregating by the waters edge a couple of hundred yards from the car park, so of course off we went to check them out. It's a great place to feed them (had I remembered the food…) since you can get right up to the water's edge.  I don't claim to be a wildlife expert but understand that woodpeckers, nuthatch, treecreepers, kingfisher, heron and goldfinch are regular visitors to the heath.
On previous visits we've stuck to the loop around the water – its about a mile long and very easy for little ones to navigate.  There's  lots of green space to run around and have a picnic (not in the shade though).  Since on this occasion we were on a shade hunt, we veered off into the woodland to explore.  The woods are gorgeous – lots of trees create a cooling canopy to take shelter from the sun's rays, and to run in between and clamber in and over.  Many of them have curved over to create dens for the kids to 'live in' for ten minutes or so until they spot something else to check out – think blackberry bushes, bug colonies and even a giant wood carving standing tall in one of the many clearings.  There are scores of little offshoot paths going deeper in to the woodland for the little ones to dart down and discover something new – a couple were slightly too narrow for my enormous buggy but by and large, the woods are buggy friendly.  We easily spent an hour or so exploring the woodland before heading back onto the main loop to make our way back to the ice cream van they'd spotted on the way in, stopping of course to jump in every muddy puddle the summer rain had created along the way.
Brereton Heath at a Glance –
🌳 Amenities – Toilets
🌳 Food/Drink – Ice cream van in the car park (at certain times)
🌳 Parking – Pay and Display Car Park
🌳 Shade scale – 7/10
Congleton, CW12 4SU
---
Other local areas worth a mention –
🌳 Alderley Edge
🌳 Macclesfield Forest
🌳 Bramhall Park
🌳 Lymm Dam
---