For days when the weather allows and you feel the need to get some fresh air, feeding the ducks is always a winner.  We've put together some of our favourite spots to feed the ducks with lovely surroundings in and around East Cheshire.
---
Massive thanks to Poynton mum Sophie who put this Blog together for us 
🦆🦆🦆🦆🦆🦆🦆🦆🦆🦆🦆🦆🦆🦆🦆🦆🦆🦆🦆🦆🦆🦆🦆🦆🦆🦆🦆🦆🦆🦆🦆🦆🦆🦆🦆🦆🦆🦆🦆🦆
---
Keep up with everything happening for families in East Cheshire by joining our Facebook Chat Group, following our Facebook Page and finding us on Intsagram 😊
---
🦆 Brereton Heath, Congleton
Brereton Heath is a great place to feed the ducks since you can walk right up to the water's edge and get amongst the hundreds of ducks who congregate there.  I don't claim to be a wildlife expert but understand that woodpeckers, nuthatch, treecreepers, kingfisher, heron and goldfinch are regular visitors to the heath.
There's a large pay and display car park which cost us £2 for 3 hours and there were loads of spaces when we arrived mid morning on a weekday. As well as feeding the ducks you can head into the woods and play amongst the trees, look out for bug colonies and make dens, or just have a run around the ample green space which loops round the water.
---
🦆 South Park, Macclesfield, SK11 8AD
This gem of a park is really well kept – in summer it has flowers blooming everywhere. It has a big pond with plenty of ducks, swans and geese and duck food is available to purchase at the cute coffee van in the car park ("Le Petit Frog"). The coffee van is a must for a hot chocolate (especially at this time of year) and has a fantastic selection of crepes. There's plenty of room for children to ride their scooters and bikes as well 2 playgrounds – one for toddlers and one for older kids. There's an onsite car park -its not massive but we've always got a space and if you don't, there are plenty of side roads nearby to park in.
---
🦆 Poynton Canal, SK12 1TH
The canal is a place I treasure, having grown up feeding the ducks there. I now take my own son to the same spots to do the same. There's usually plenty of ducks around as well as other wildlife to spot and of course, the barges going up and down. My little boy loves to stand on the bridges over the canal as the barges go under. We park at Nelson's Pit car park (which is where the post code takes you). It does cost – but is right by the canal as well as the Middlewood way (which is ideal for bike riding and walking). Once on the canal, turn right and wander up over the bridge, grab a coffee from Bailey's Trading Post, let the kids feed the ducks and then carry on for five or so minutes to the large field and park – Mount Vernon play area.
---
✨Sponsored Link ✨
Award Winning local law Firm McAlister Family Law offer expert advice on all aspects of family law.  Click here for more information.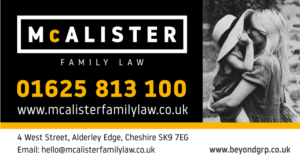 ---
🦆 Poynton Pool, SK12 1RE
Poynton pool is equally pretty and has lots of geese at certain times of year. Try and spot the Terrapins sunbathing – goodness knows how they ended up there, but they seem to enjoy it! It's a nice size for the little ones to walk around and there are often sheep on the grass too. Poynton village is a short walk if you fancied a pub lunch or coffee afterwards.
---
🦆 Redesmere, Macclesfield
If it's ducks you're after, Redesmere Lake is for you! It's a manmade lake which is an absolute haven for aquatic birds – they swarm around the car when you pull up! There's free parking, benches to sit on and, as we've already mentioned – lots and lots of ducks to feed!
---
🦆 The Moor, Knutsford, WA16 6JD
This park proved really popular when we went. We found a parking space easily even though it was quite busy. There are plenty of hungry ducks in the pond, which has railings too so you don't have to worry about wobbly toddlers near the water. There is a really good play-park that our little boy loved and spent ages in. There is also plenty of picnic benches to perch on and a quaint coffee van that did excellent posh hot chocolate (the type where they melt actual chocolate in hot milk…) It's right next to Knutsford village centre which is nice for a wander round too.
---
🦆 Nantwich Lake, CW5 5ED
Nantwich lake makes for a really pleasant walk with plenty of hungry ducks looking for a snack. There's some benches for picnics and it's only a ten minute walk from Nantwich town centre if you wanted to make an afternoon of it. It doesn't have many amenities but it's a really well kept, pretty area and there is a small car park. It wasn't overly busy either which was nice.
---
🦆 Queens Park, Crewe, CW2 7SJ
Queens park is a great place for an afternoon feeding the ducks and swans and exploring the large grounds (45 acres). They have a great children's play area – including a swing suitable for wheelchair users. There's plenty of picnic benches if you want to take your own food but there's also a great cafe that offers nice food and hot drinks. The park is known for its beautiful scenery and is much loved by locals. Definitely worth a visit.
---
Just outside Cheshire
🦆 Bramhall Park, SK7 3NX
This park is one of our favourites. It has a really nice route around the whole park with quieter wooded areas and more open bits near the pond. There's always lots of ducks and geese here that are very happy to accept whatever offerings you have. You can get right up to the waters edge and wander amongst the ducks, and there's also a stream that's good for paddling (wellies essential!) The park is beautifully maintained and has a really good cafe that offers food, drinks and ice cream. The play park is one of my son's favourite and there's lots of space for running around. It is a popular park and it's small-ish car parks (there are 2) do get full  but there are roads nearby that you can park on.
🦆 Bruntwood Park, Cheadle, SK8 1HT
Bruntwood park is fab for all ages. There's a pirate ship climbing frame and slide in a huge sandpit for the little ones and a massive tunnel slide for the older kids. There's a pretty railed pond where we have spotted lots of cute baby ducks in the summer months. It's only a little pond compared to some of the others but there's always been plenty of ducks around (and I've been going here since childhood). There's a nice cafe situated next to the pond for food or hot drinks and behind the cafe is a large expanse of grass and trees which we like to play hide and seek in. There's also a BMX track for the keen bikers in the family. The park is right under a flight path too (it's very close to Manchester Airport) which is great for plane spotting. It's easy to spend a good few hours here and remains one of our favourites. Car parking is aplenty but does cost a small amount.
---
🦆 Buxton Pavilion Gardens
We love Buxton Pavilion Gardens and often make a full day out of a visit there. The gardens comprise 23-acres of pretty landscaped gardens and there are 2 large play areas, a miniature railway, lake, ice cream parlour, cafe (with soft play area!) and indoor market hall (NB – some of these areas are currently closed/operating under different conditions due to covid). There are also a lot of ducks!! We often spot cute little ducklings in the summer months and its one of those places where you can get right up to the water and get amongst the action. There's a large car park on site – its pay and display but makes parking straightforward.